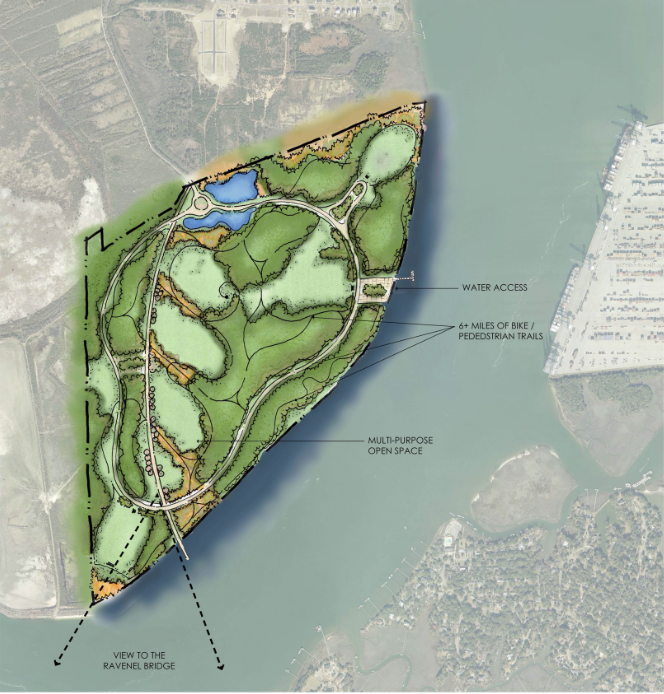 Buddy the Elf's snowball fight. An "impromptu" dance number led by an Enchanted princess. Love found on an ice rink in the Serendipity of a final scene.
New York City's beloved Central Park was the backdrop for these famous movie moments. Could we imagine an equally iconic spot here in Daniel Island?
Earlier this month, speaking in front of constituents and news media, U.S. Congressman Mark Sanford injected new life into his pet project: a sprawling "legacy" park on the southern tip of Daniel Island. It would cover about 400 acres – roughly half the size of Central Park – and include a six-mile bike and walking trail, water access, and open and recreational space for a multitude of uses. And, of course, stunning views of the downtown skyline, Ravenel Bridge, and Charleston Harbor.
The project, to which Sanford refers as Tri-County Waterfront Park, has early backing from key players: State House District 99 Representative (and Daniel Island resident) Nancy Mace, Daniel Island Company President Matt Sloan, and Charleston Mayor John Tecklenburg. The stakeholders cite their reasons for support as responsible land conservation, value enhancement of the surrounding real estate, and access to water and other recreation for all residents of the Charleston area.
Just how that park would be accessed is a major consideration, and water routes would be essential to mitigating road traffic. Boat taxis could potentially depart from points in Mount Pleasant, the peninsula, and North Charleston. Sanford suggests that funding for both the project itself and resultant infrastructure changes could come from the establishment of a non-profit entity.
The land that would transform into Tri-County Waterfront Park is currently owned by the State Ports Authority, which uses it for dredging, and the SPA has indicated its opposition to the project in the past. But the park's primary champion seems undeterred, referencing a need to be stewards of the "unique quality of life" Lowcountry residents enjoy.
If Charleston's version of Central Park gets the nod, the funding and construction process could take 75 to 100 years. But the idea is to leave a remarkable place for future generations, and let them take charge of developing it in a way that best honors this city, and the beautiful piece of land nestled at her center.