The sea island community known as the edge of America is Folly Beach. Buyers looking for beautiful oceanfront homes, villas, townhomes and condos should consider Folly Beach homes for sale. With a diverse mix of architectural property styles, Folly Beach has gorgeous homes hidden in the sand dunes and tall palms, making you never want to leave.
About Folly Beach Real Estate
With every home only minutes from the beach, Folly Beach real estate is extremely desirable. Gorgeous homes with fresh, welcoming interiors and beautiful oceanviews remind residents that they are living the Folly Beach lifestyle. Most properties are complete with stainless appliances, gas fireplaces and contemporary kitchens.

Vacation homes in Folly Beach provide the perfect opportunity for Lowcountry living, and will leave residents feeling refreshed, serene and ready to take on the world.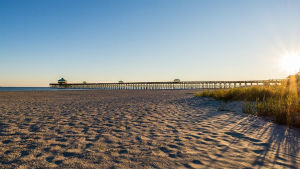 Folly Beach Highlights
The Town of Folly Beach's population is approximately 2,500, and its residents are beach-lovers through and through. The island is known as one of the top spots for surfing on the East Coast, and hosts a number of surfing competitions year-round. The Edwin S. Taylor Folly Beach Fishing Pier is a stunning landmark stretching into the Atlantic Ocean. It offers not only spectacular views, but a variety of fishing tournaments and special events, including summer's series of pier-packed dance parties, the Folly Beach Moonlight Mixers (also known as "Shaggin' on the Pier"). It is, in many respects, the heart of Folly Beach, beating just a few sandy steps from the island's energetic but unhurried town center.

Standing alone about 300 yards off-shore from Folly Beach is the beloved Morris Island Lighthouse. Over the last 200 years, shifting tidal currents and the subsequent building of jetties led to severe erosion of Morris Island, and today the lighthouse is completely surrounded by water. The structure was earmarked for demolition until local residents petitioned to save it, and the U.S. Coast Guard built an underground steel wall around the tower to protect it from further erosion. It is this same thoughtful spirit that fuels the DNR-licensed and volunteer-run Folly Beach Turtle Watch, which serves to protect sea turtles, their nests, and hatchlings on Folly Beach. Residents of all ages are proud of their island's habitat, and take great care to preserve it.